G Sharp Duo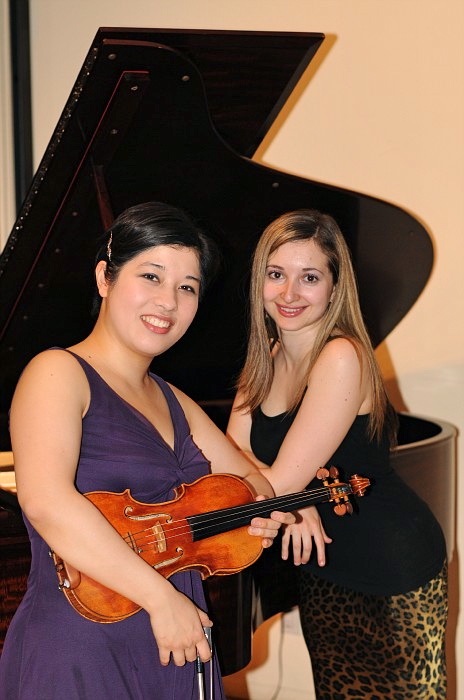 Founded in 2003, the G-Sharp Duo is a dynamic ensemble established by violinist Emilie-Anne Gendron and pianist Yelena Grinberg when both were students in the Barnard-Columbia-Juilliard (BCJ) dual degree program. Over the past thirteen years of close, creative collaboration, they have garnered enthusiastic praise from New York's classical music scene for their highly expressive, insightful performances and charismatic stage presence.
Infusing their interpretations with a keen musical intellect and poetic imagination, Ms. Gendron and Dr. Grinberg are committed to showcasing not only the beloved hallmarks of the violin-piano literature, but also some lesser known compositions as well as important contemporary works. Notably, they gave the world premiere of Hiroya Miura's "Moon Petals" (2005), a composition dedicated to the G-Sharp Duo, which was first performed at Miller Theatre and broadcast over New York Public Radio's arts program Ear to Ear, hosted by David Garland. In Spring 2009, the Duo presented the US premiere of Philip Lasser's "Chaconne Variations" (2007), and in Fall 2010, they gave an unofficial premiere of Michael Harrison's "Raga Prelude" at Faust Harrison Pianos.
Prizing dual commitment to intellectual and musical exchange, Ms. Gendron and Ms. Grinberg give frequent lecture-recitals, exploring in depth various musical and aesthetic aspects of the sonata-duo repertoire at venues, such as The Juilliard School, Columbia University, and New York University. The G-Sharp Duo won First Prize in the duo category of the 2006 International Chamber Music Ensemble Competition, sponsored by the Chamber Music Foundation of New England. In Summer 2008, they were awarded residency at the renowned Banff Centre in Canada, where they worked closely with such artists as Philip Setzer, Mark Steinberg, Barry Shiffman, and Denis Brott.
Since their New York debut recital at Merkin Hall in Spring 2008, the G-Sharp Duo has given numerous performances at venues such as Miller Theatre, Bargemusic, Steinway Hall, Weill Recital Hall, the Bates College Concert Series, the Harvard Club of New York, the chamber music series at St. Paul Church in Brookline, Massachusetts, Tenri Cultural Institute of New York, The Bronxville Women's Club, The Workshop for Music Performance Hall, Nicholas Roerich Museum in New York, and the Grinberg Classical Salon Series.
This upcoming Fall 2016 Season, G-Sharp Duo presents a two-part thematic lecture-recital, Music from the Czech Lands, featuring both beloved and seldom-heard works by Dussek, Hummel, Martinu, Smetana, Dvorak, Janacek, Suk, and Schulhoff at the Bohemian National Hall and at the Grinberg Classical Salon Series.
For more information on the artists, please check their respective websites: www.emilieannegendron.com and www.yelenagrinberg.com
Interested in hiring the G-Sharp Duo? 
The G-Sharp Duo can be readily contacted for concerts, lecture-recitals, banquets, parties, weddings, corporate events, and more. For inquiries, please email Yelena Grinberg at [email protected].
G-Sharp Duo
Emilie-Anne Gendron, violin & Yelena Grinberg, piano
Alkan – Grand Duo Concertant in F-sharp minor for violin and piano (1840) – iii. Aussi vite que possible
Poulenc – Presto tragico from Sonata for violin and piano, op. 119; recorded live at The Steinway Hall; September 15, 2012
Saint-Saens – Allegretto Moderato from Sonata no. 1 in D minor for violin and piano, op. 75; recorded live at The Steinway Hall; April 7, 2012
Liszt – Hungarian Rhapsody no. 12 in C-sharp minor, arranged for violin and piano, recorded live at Steinway Hall; October 22, 2011
Brahms – Sonatensatz in C minor for violin and piano from the F.A.E. Sonata, recorded live at WMP Hall; June 16, 2011
Mendelssohn – Movement in G minor for violin and piano, recorded live at Faust Harrison Pianos; October 29, 2010
Bach – Allegro from Sonata in A Major for violin and harpsichord, recorded live at Tenri Cultural Institute; April 19, 2009
Philip Lasser – Chaconne Variations from Partita in D minor by J. S. Bach, recorded live at Tenri Cultural Institute; April 19, 2009
Schoenberg – Fantasy for violin and piano, recorded live at Tenri Cultural Institute; April 19, 2009
G Sharp Duo
Emilie-Anne Gendron, violin & Yelena Grinberg, piano
Recorded Live at the Rogers Memorial Library, Southhampton, LI, June 2010
Beethoven – Sonata no.5 in F Major ("Spring") for violin and piano, op. 24, I. Allegro
Schumann – Sonata no.2 in D minor ("Grosse") for violin and piano, op. 121, IV. Bewegt