Haas-Grinberg Duo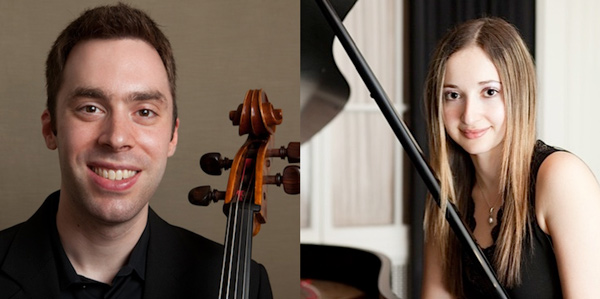 Established in 2012, the Haas-Grinberg Duo is an impassioned ensemble consisting of two established Juilliard alumni, cellist Michael Haas and pianist Yelena Grinberg. The duo has performed together as part of the Grinberg Classical Salon Series, showcasing an Homage to J. S. Bach program with works by J. S. Bach, Beethoven, Webern, and Brahms, a program of Romantic masterworks for cello and piano in Celebration of Alkan's 200th Birthday, with works by Mendelssohn, Liszt, Beethoven, and Alkan's rarely-heard Sonate de Concert, presented at Center for Jewish History, and, most recently a program in Celebration of C.P.E. Bach's 300 birthday, featuring three G-minor sonatas by C.P.E. Bach, Beethoven, and Chopin.
Interested in hiring the Haas-Grinberg Duo? 
The Haas-Grinberg Duo can be readily contacted for concerts, lecture-recitals, banquets, parties, weddings, corporate events, and more. For inquiries, please email Yelena Grinberg at [email protected].
Haas-Grinberg Duo
Michael Haas, cello and Yelena Grinberg, piano
Recorded Live at Grinberg Classical Salon Series, New York City, Nov. 24, 2013

ALKAN – Sonate de Concert for cello and piano in E Major op. 47 (1857); iv. Finale alla Saltarello
Yelena Alkan – Saltarello Celloex
Recorded Live at Grinberg Classical Salon Series, New York City, Sept. 6, 2013
BRAHMS – Sonata no. 1 in e minor for cello and piano, op. 38 (1862-1865); iii. Allegro